Tony Hayers was the Chief Commissioning Editor of BBC Television from 1995 until his death in 1997. He appeared as a guest on the radio series of Knowing Me, Knowing You with Alan Partridge and TV Christmas special Knowing Me, Knowing Yule, and was frequently pesterd by Alan Partridge to allow him to advance his career.
Biography
Hayers attended university at Loughborough, where he achieved a second-class honours degree in Media Studies. Before his career in television, he was chairman of Euro-International Airlines, where he laid off 2,000 workers.
Becoming BBC Chief Commissioning Editor in the early to mid 1990s, he was commited to delivering programmes of "originality, quality and excellence". He saw the BBC as "no exception" to the market economy, and said that "every programme will have to justify itself" and that "if it's a lame duck, it may have to go".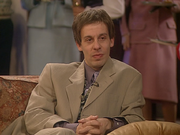 Partidge invited Hayers on to his radio show Knowing Me, Knowing You with the ulterior motive of convincing him to grant him a television show. After the disastrous viewing figures of the latter, Alan was given a final chance with Christmas special Knowing Me, Knowing Yule, but ended up punching Hayers in the face with a turkey.
Despite this assault and Alan's by turns obnoxious and fawning behaviour, Hayers invited him to dinner at a BBC restaurant to politely explain that his career at the corporation was over. Alan again attacked Hayers, this time with a block of cheese. To Alan's delight, Hayers died later that year after falling off the roof of his house whilst attempting to fix a TV aerial on his roof.
Personal life
Hayers was Jewish. He had a wife and children.