Knowing Me, Knowing You with Alan Partridge, or Knowing Me, Knowing You (sometimes abbreviated to KMKYWAP and occasionally referred to as The Alan Partridge Show), is a spoof chat show hosted by Steve Coogan as Alan Partridge. It was a TV adaptation of the radio series of the same name.
Synposis
"Aiming to 'quite literally put the chat amongst the pigeons', Alan took on prime time TV - and lost, badly. As chat show host he is brash, cheesy and uncompromisingly narrow-minded. Forced into crude clown groups, risque men's dance troupes and fashion designers, he is obnoxious and downright rude. As only Partridge can, he humiliates, infuriates, assaults and even kills his guests - but as always, ends his show like a true professional... 'On that bombshell...'" (BBC Studios)
Format
Knowing Me, Knowing You followed a standard chat show format, where guests (see list) were invited onto the programme to discuss their life and work with the host. Each show typically had four main guests, as well as some kind of live performance or event. Show 4 was ostensibly set in Paris. Episodes began with Partridge shouting "A-ha!" and cracking a couple of jokes, before having a short discussion with musical director Glenn Ponder. This opening segment saw the first use of the greeting "Knowing Me, Alan Partridge, Knowing You[...] A-ha" which was used religiously throughout the series. Other segments included "Alan's Big Pocket" (relegated to show 3 only), and "Another Alan Partridge", where someone who shared Alan's name was invited onto the programme. A one-off hustings for the West Chalfont by-election in show 5 was titled "Partridge Over Britian".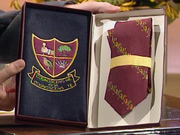 Guests on the show were gifted Alan Partridge Tie and Blazer Badge Combination Packs and, in show 6, Alan Partridge masks. These products did not prove particularly popular with guests.
The set of Knowing Me, Knowing You was deisgned to mimic a "top international hotel". A chair, sofa and table were positioned centre-stage, behind which could be found various pieces of set dressing including a fountain, foliage, and a hot tub. The set had two entrances, one for the host (underneath a stage for Ponder and the house band), and one for the guests. There was one additional room, off stage right, which appeared only in show 1.
Epsiodes
| # | First brooadcast |
| --- | --- |
| 1 | 16th September 1994 |
| 2 | 23rd September 1994 |
| 3 | 30th September 1994 |
| 4 | 7th October 1994 |
| 5 | 14th October 1994 |
| 6 | 21st October 1994 |
Credits
Cast
Main cast
Glenn Ponder - Steve Brown
Alan Partridge - Steve Coogan
Sue Lewis, Tania Beaumont, Gina Langland, Yvonne Boyd, Charlotte Fraser, Bridie McMahon - Rebecca Front
Keith Hunt, Gary Barker, Lawrence Knowles, Philippe Lambert, Martin Dwyer, Forbes McAllister - Patrick Marber
"Mr. Booky", Tony Le Mesmer, Clive Sealey, Toto the Clown, Adrian Finch - David Schneider​​​​​​
Guest cast
Minor roles (in order of appearance)
Sam Hunt - Sam Cavalli-Green
Keyboardist (Shona's band), Cirque des Clunes act - Sarah C. Cameron
Bass guitarist (Shona's band) - Shend
Drummer (Shona's band) - Kate Stubbs
Tony's wife - Michelle Collins
Hot Pants - Venol (choreographer), Richard Allen, Kelly Rahman, Nick Musca
Cirque des Clunes act - Ben Moor
Models - Newman, Matt Green, Tor Forsse
Terry Norton (reconstruction) - Bill Stewart
Miss Norwich contestants - Justine King, Vanessa Upton, Cheryl Dempsey, Dorelli
Bald Brummies - Garry Roost, Damian Walkin, Stephen Donaghy, Peter Leafe
Dancers - Jo Robley Dixon (choreographer), Michelle Everett, Charlotte Andrew, Donna Ross, Alicia Ryan, Samantha Lewis, Lene Langgaard, Amanda Brooking, Susan Acteson
Floor Manager - Sarah Wynter
Doctor - Peter Oxley
Producer - Tony Haase
Crew
Written by - Patrick Marber and Steve Coogan, with Armando Iannucci (additional material by the cast)
Producer - Armando Iannucci
Director - Dominic Brigstocke
Executive Producer - Peter Fincham
Head of Production - Sally Debonnaire
Production Manager - Alison MacPhail
Production Assistant - Pamela Wylde
Trainee Production Assistant - Kendall Anderson
Production Co-ordinator - Samantha Taylor
Casting Director - Susie Gautier-Smith
Production Accountant - Penny Anderson
Script Secretary - Arabella McGuigan
Production Runner - Naomi Ellwood
Resource Co-ordinators - Patrick Steele, Phil Dean
Planning Co-ordinator - Clare Owen
Floor Manager - Mike Agnew
Stage Manager - Angie Hill
Floor Assistants - Helen Beauchamp, Jill Hallowell, Andrew Wiltshire
Sound Supervisor - Jem Whippey
Deputy Sound Supervisor - Paul Ostwind
Sound Crew - Doug Prior, Mark Sanders, Andy Brown, Andy Gimlet
Lighting Director - Mike Sutcliffe
Scan Operator - Andy Dobbs
Senior Production Electricians - Alan Coulter, Bob Anderson
Production Electricians - Harry Stevenson, Mark Bourne, Gwillen Roberts, Ian Glennister, Gary Nesbitt, Alan Phillips
Vision Control - Mike Le Fevre, Andy Clark, Ian Dobbs
Vision Mixers - Naomi Neufeld, Ian Trill
VT Play-in - Lee Carson
Camera Supervisors - Colin Aiken, John Hoare
Cameras - Dave Box, Dave Carter, Pete Evans, Graham Hall, Mark Harvey, Simon Cleobury, Ian Head, Adrian Homeshore, John Longley, Sarah Lee, Andrew Ribero, Duncan Unsworth
Portaprompt - Jo Ketteringham, Michaela Fishwick, Sam Tomlinson
Designer - Denis DeGroot
Assistant Designer - Jo Sutherland
Production Buyer - Terry Black
Magic Advisor - George Kovari
Property Master - Andy Beales
Location Standby Props - Dick Lunn
Location Standby Carpenter - John Campbell
Senior Production Operatives - John Sharp, Fred Oakham
Production Operatives - Colin Ellis, Steve Ebanks
Special Effects Supervisor - Steve Webster
SFX Technicians - Simon Taylor, Rick Jolte, John Hicks
Make-up/Hair Design - Lisa Cavalli-Green
Make-up Artists - Carlene Gearing, Mandy Furlonger, Lesley Hamon
Make-up Assistant - Caroline Barnes
Costume Designer - Marcia Stanton
Wardrobe Supervisor - Michelle Marsh
Dressers - Inca Bayer, Jane Edmonds
Location Cameras - Steve Albins, Paul Kirkham
Assistant Camera - Toby Eedy
Location Sound - Geoff Prince
French Location Fixer - Chris Ellis
Editor - Mark Lawrence
Graphic Design - Richard Norley, Russell Hilliard
Additional Editing - John Dunstan, Richard Cook
Dubbing Mixer - Tim Alban
House band (Chalet, Debonnaire, Ferrari, Savoir-Fair, Lazarus, Bangkok)
Musical Director - Steve Brown
Drums - Richard Marcangelo
Bass Guitar - Kevin Powell
Guitar - Matt Backer
Keyboards - Jess Bailey
Saxophone - Gary Barnacle, Chris "Snake" Davis
Vocals - Mariam Stockley, Linda Taylor
Accordionist - Gerant Watkins
Gallery
Community content is available under
CC-BY-SA
unless otherwise noted.